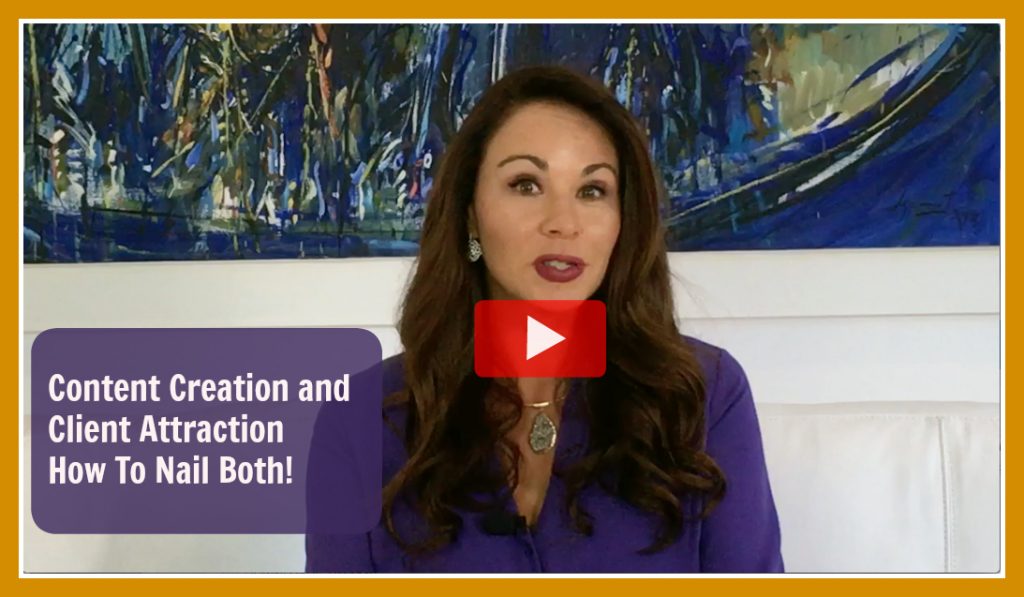 Hi there!
Erika Ferenczi welcoming you to another one of our unstoppable
video blogs!
You know what? Every time I speak with an entrepreneur or
aspiring one all I always hear is:
"How can I get more clients?"
and while I totally understand this, I believe that in order to
get more clients every entrepreneur must master 4 areas:
Content Creation
Lead Generation
Sales Process
Client Fulfillment
On today's vlog I talk to you about two of them:
Learn what Lead Generation is and how to think about it for maximum results
Content Creation, what this means, why is it important and 3 tips you can implement right away to be more effective.
All by playing the video below:
Enjoy!
AND
Make sure to join our 7 Day Content Creation Challenge!
Last time I ran a challenge like this, women had amazing breakthroughs.
New speaking engagements opportunities, new clients, new connections.
You will get more news very soon,
With all my desire to see you succeed,
VIDEO TRANSCRIPT:
Hi there. How are you? This is Erika Ferenczi from the Unstoppable Female welcoming you to another one of our unstoppable video blogs. I am here today to help you turn your message, your passion, and your expertise into a thriving business so you can get more clients, have more sales, and live the life that you desire and deserve. On today's blog we're going to be talking all about lead-generation and content creation, and in a few moments, I'm going to explain to you why is it that lead-generation is such an important part of your business if what you want in the end is to get more clients and  grow your income. Also I'll discuss how content creation fits into the process of lead-generation, and how to add client attraction and sales expansion.We have a lot to talk  about today on this wonderful blog.
First and foremost, let's talk about the concept of lead-generation. When you want to start a business, you have great expertise and a great passion. Maybe you went through coaching, website creation training, or marketing classes, and you say, "I'd love to start my business." Having a business is a great idea, but we fail to know that in order to grow a business, you need to do something that is called lead-generation. Maybe you fall into this category. What that means is that you're going to put into practice several marketing activities that are going to deliver and give your ideal clients amazing value. You will get those people interested in what you do in order to move them to the next level so you and your company can have conversations with these people. Then these people can make the decision to buy your services or products, or engage with your company.
So how do you reach the people who are out there in the world whether it's on the internet, in their own companies, or their own houses. The process of reaching those people is called lead-generation. In other words, your company is going to implement these marketing activities to reach people. This is important  because it's through the process of lead-generation that you're going to create interest in the marketplace. That is very important for you to know. You are creating interest in the marketplace, and the way that you create interest is by delivering value and doing what we call planting the seed of possibility. In other words, you're going to create value for those people and make them aware of the possibility that they have towards achieving their goals.
One of the ways that you can do that is through the process of content creation. Let's go to the final objective that you might have. I guarantee you that you want more clients in your business. Now how do you get more clients? Well, to get more clients some people need to go through the process of sales in your company, whether it is through your website or through a representative. They need to decide to say "Yes" to engaging with your products or your company. In order to do that, you need to have generated a lead, and a lead gets generated with traffic. So I'm reverse-engineering the process. Traffic creates a lead.
How do you create traffic? Obviously there are many ways to create traffic to your website, your company, or your store front. One of the great ways to do that is through content creation. If you have a business that is location-dependent, creating content and mixing content for your business is one of the main things that you can do to drive traffic and leads into your business. Content creation is going to drive traffic that is going to create leads that are going to go into the sales process, and at the end you're going to be able to get clients. Why? Because you want to serve those people.
That is the process of lead-generation and how content can help you expand your business. Perfect. Now that we have explained the process of lead-generation, I want to walk you through the five tips that I have for you today in order for you to be able to create amazing content for your business, for your message, and for your movement. Remember that the reason why you're doing what you're doing is for your mission—the message that you want to share with the world. So what are three ways or three tips that you can start using right away in order to create this amazing content.
Before I go into that, I just want to remind you that next week, we're going to start our seven-day content creation challenge which is a free challenge that we are going to run inside of our Facebook group. If you want to walk with us through this challenge, if you want to do this completely free challenge, every single day I am going to be doing a short training session followed by a specific homework assignment which is just one action that you can consistently take every single day. That action will take you a very short amount of time to complete, so it's nothing complicated. But if you want to build momentum in your business, I really suggest that you join us for the content creation challenge. All you have to do is click the link below in this video. There is a button that says "Join our Facebook group."
Okay. Having said that, what are the tips that I have for you today? Tip number one, you need to fall in love with lead-generation. You really need to fall in love with lead-generation if you want to be successful in your business. If you don't generate leads, you won't be able to serve your ideal client. Yes, I know that it feels a little bit extreme, but that is the truth. The reason why you want to generate these leads is because you want to deliver value. You want to really bring to fruition that mission that you have, and the only way to do that is to reach the people that you're supposed to reach in this world. So make sure that you fall in love with lead-generation. In other words, you become aware of it. You embrace it as part of growing your business. You fall in love with it. You connect lead-generation with your mission and why you enjoy the process. Remember that behind every single lead, every name and email that appears on your website or on your social media, is a real person—a real woman, a real man, real mothers, fathers, families, kids. Real people with real problems and real desires. So that's it—number one.
Tip number two, make sure that you are extremely clear on your ideal client's middle-of-the-night itch. Let me explain this to you. Remember that if your objective is to grow a successful business, you must have sales coming in, and you must have income coming in. The process of being in business requires actual expenses and money going out. Money coming in needs to exceed the money going out.
How does that relate to your ideal client's middle-of-the-night itch? If whatever you're offering to your target market—to your ideal clients—is not a necessity, something they must solve in this minute, most likely your business or your service will become a commodity rather than something they want. If you are a big company and you have unlimited marketing budgets, this is not such a problem because you can actually turn that around, but if you're a solo-prenuer … which you most likely are since you're watching this video … you want to make sure that you define what it is that your ideal client wants and what they want right now. What is it that they want? What is it that they need? What is it that your ideal client needs? How does your ideal client feel in this moment, and how is it that your ideal client wants to feel in the future? If you are super-clear on that, you can have a fabulous beginning to your sales process or your marketing process. That is tip number two.
Tip number three is all about defining what your offer will be. So many times people just say, "Okay, what can I share right now?" and they just randomly throw out content. While that is great at times … and there are times for that, and I am going to speak about that in a second … most of the time, what you want to have is a content creation plan. What that means is that you're going to look at your offer and you're going to say, "Okay, this is the offer that I created for this specific need of my ideal client, and this is what they need to become aware of before I even present the offer." That part becomes your content. First and foremost, you really want to start by understanding what your offer will be.
Having said that, there are also going to be moments throughout the year when you're not offering anything. Maybe you just filled a program or you sold out a branch of your company or you're just taking a break and you're on vacation, or whatever it is, in those moments you're not offering anything. It is totally okay to create a piece of content that will speak about your main message or maybe it's something that is happening in your life or something that will just deliver random and amazing content to your audience.
Those are the three tips that I wanted to give you today because I don't want this video to overwhelm you. I just want to plant the seed because there are several other steps that I will be talking about at our seven-day unstoppable content creation challenge. So make sure that you sign-up for that and join us. I am going to be doing a daily teaching … a short teaching with a specific homework assignment because what I want to do is inspire you, motivate you, and be with you every single day to ensure that you're taking daily action towards that dream, that objective, or that project that you have. Make sure that you sign-up.
Thank you so much for being here with us today. Make sure that you sign-up for the seven-day content creation challenge, and as always, remember that life gives us both the opportunity and the responsibility and the privilege to share with the world something every single day. Once you have a message and once you have a mission, it is your responsibility to share your message with the world so you can help more people, and you can become that blessing to humanity that you are here to be.
This is Erika Ferenczi from the Unstoppablefemale.com, and I will see you at the challenge. Goodbye, everybody. Leave me your comments and questions below. See you next time. Goodbye.
==> Join the 7-Day Content Creation Challenge
2016 Copyright and All Rights Reserved, Erika Ferenczi, ErikaFerenczi.com & Life is Yours, LLC.
---
WANT TO USE THIS ARTICLE IN YOUR NEWSLETTER OR WEB SITE? You can, as long as you include this complete paragraph with it:
Erika Ferenczi, ACC, CPC, ELI-MP, EH, MFIN is a Business & Financial Freedom Mentor, Dynamic Speaker, Loving Mom. She is the Founder of the www.TheUnstoppableFemale.com and Author of: Beyond The Lies ~ The Ways Women Sacrifice Freedom by Relying on Others. Erika is a Financial Expert by profession and a Business Mentor by heart. She specializes in helping business owners get more clients and double or even triple their income in record time.   Erika believes that you are not free until you are financially free and that the moment you turn your business into your life's mission and you learn the art of marketing and sales you can not help but succeed and she is eager to show you how.