I Am Grateful
For my children who make a mess –
Because that means they are home,
they are healthy and they are safe.
For my husband
who from time to time picks a fight –
Because I know he cares.
For the disagreements I have
with my parents about how they live their life –
Because that means they are alive.
For the home bills I have to pay –
Because that means I have a home.
For having to fix my car –
Because that means I am fortunate
to have a car.
I am grateful for the coffee that spills
in the morning, although I have to change
and be late for work –
because that may have saved me from an accident.
I am grateful for the broken feet
from the accident that I had –
Because that means I am alive.
I am grateful for a broken heart –
Because I know I can love deeply.
I am grateful for my aching muscles
at the end of the day –
because that means I can exercise.
I am grateful for being stretched too thin in my business –
Because that means I am doing what I truly love,
and it hardly seems like work.
I am even grateful for the alarm early in the morning –
Because that means I am alive to live another day.
– Erika Ferenczi
A Tale on How I learned the Importance of Gratitude.
Being grateful is one of the simplest, yet most difficult things a human being has to do.
It's simple because when we embrace all things we can be grateful for, it becomes effortless.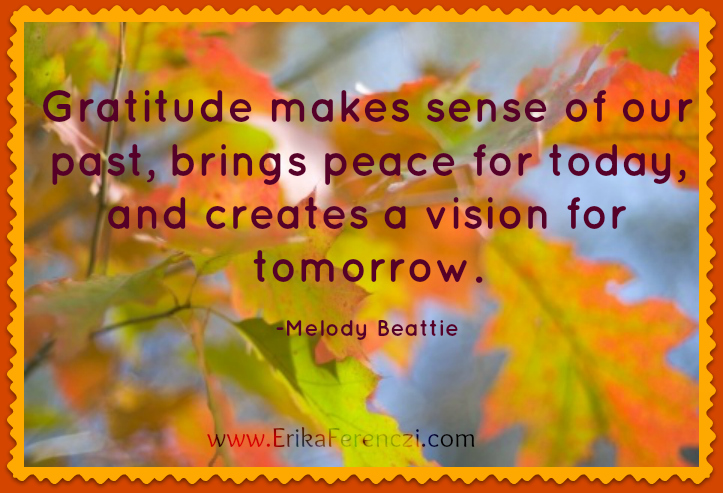 It's difficult because we have been conditioned to look only for the extraordinary, because we take things for granted in our lives, because we lose our childhood sense of wonder along the way.  But the truth is that if you are not able to be grateful for the small things, you won't ever be able to be grateful for the big ones either.
I was taught to be grateful for the simplest things; often those were good experiences, while others were experiences that could have had catastrophic consequences, but which thankfully did not.
Every night (on baseball nights) I used to complain to my son, sometimes even raise my voice to him, because when he would enter his room and take off his shoes, sand would spill out of his shoes onto the floor – every single night.   I was tired of him not being careful, not being respectful, and so I complained, and then I scolded him…
… until one day…
He did not come home.   It was a mistake by the adults around him, but he was left alone at the baseball camp at night and no one was there to pick him up.  I was taking a shower and preparing for a dinner I had that night, and my husband was supposed to bring our son home.   But my husband heard that someone else was bringing him home, so he naturally assumed he did not have to pick him up.
When I came out of the shower, the house was unusually quiet.  Trying to rationalize the fact he hadn't appeared yet, I said to myself: "He's probably showering."  Five minutes passed, and there was still silence.  My instincts told me something was wrong.  "Where is my son?" I said to my husband, getting agitated.  "You told me someone else was going to bring him home."
In a split second, I dropped the towel, donned some jeans, and before I could even  explain where I was going, I jumped in the car, and drove like a maniac towards the baseball park.   The entire ride I could not stop praying for a miracle to happen so I would find him there.  "Please God" I silently mouthed, "please, please keep him safe until I get there" I said over and over.  When I arrived (a record 8 minutes and 30 seconds later), it was already 9 p.m. and the game was over – everyone had gone home.
Then the miracle occurred… I found my son.  I started to cry so hard when I spotted him.  I believe I scared him more with my tears than the fear he had been feeling when he was there by himself.
I brought him home, and all the time in the car I did not stop praying.  But this time I was only saying thank you.  Thank you so much for returning my son to me, for keeping him safe from harm.
And that night as I always do before going to bed, I went to his room to check on him.  Well, there was sand all over the floor… I could feel the grittiness of the sand against my bare feet.  But I did not complain about it.  Instead, I immediately felt the tears down my cheeks and I found myself thanking Gd for the sand and my dirty floors because that meant my son had been safely returned to us.
Gratitude is the key, even when you believe there is nothing to be grateful for. I assure you there is.
To your Everlasting Success