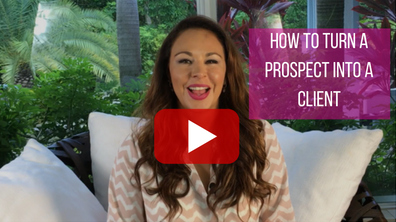 This is Erika Ferenczi from The Unstoppable Female
and I want to welcome you to another one of our Unstoppable
blogs. Today we are going to talk about one of the
strategies that will help you turn a prospect
into a client – I like the sound of that already,
hope you do too!
Specifically, this week's blog post is about how you can
build a what I call a 'Perfect Welcome Funnel' on your
website so you can get more clients.   I know everyone,
and I mean everyone, who wants to be in business
knows they need a website, and indeed you do.
However,
After spending thousands of dollars on creating a
website most of the time people see ZERO benefit from it.
Why?
Because they miss the main elements that I will teach you
about in this blog.  So if you are interested in knowing the
MUST HAVE elements you need to include on your
website to attract clients on autopilot (as long as you are
driving traffic to it) please watch the video below.
You can also listen to the audio here:
Also, this month inside of our Unstoppable Confidence and Profits Club
we created a FULL hands-on training on how to get clients by
creating a killer opt-in and a low priced product entry offer,
and constructing your own perfect welcome funnel.
(Our members also have cheat sheets, templates and everything
they need to create their perfect welcome funnel and get more
clients fast!)
===> Click here to join UCPC now
With all my desire to see you succeed,
VIDEO TRANSCRIPT
-Hi. This is Erika Ferenczi from The Unstoppable Female and I want to welcome you to another one of our Unstoppable blogs. I am here to help you turn your expertise, your message and your passion into a thriving business so you can attract more clients, increase your income and lead the lifestyle that you desire and deserve.
Today we're going to be talking about one of my favorite topics. That is marketing. More specifically  we're going to be talking all about funnels and the number one funnel you need to create in your business if you want to convert a person who might be interested in what you have to offer into a paying client in the shortest amount of time possible so you can really help them solve their problem…
-In the process of marketing, we're going to be talking about what are the main elements that you need to create in your own business if you want to turn a prospect or a person who might be interested in what you have to offer into a paying client in the shortest amount of time possible. How do you do that? You do that with what I would call a perfect welcome funnel. Let's talk about that.
-Number one, let's talk about what is a funnel. A funnel is like a journey. It's like a journey that you decide what are the pit stops along the way that are going to be made or that the client or the prospect that is going to go through that journey is going to make from the moment in which they are strangers to your world to when they become a prospect or a lead until they become a client, most of the time in one of your low-priced products or offerings, until they ascend through that journey or they keep going through that journey and they come to your higher-priced product. That is what a funnel is.
-I want you to think about a funnel kind of like a journey, like a trip that you're going to take. It could be like a road trip or it could be … Let's say that you are going to fly from … I live in Miami, so let's use Miami as an example. Actually, one of my sons lives in New York so let's use that as an example. Let's imagine that I want to drive or I want to travel from Miami to New York, Miami being your client when your client gets in touch with you for the first time and New York being your higher-priced product or service.
-When I think about where am I going to start my process, where am I going to stop next, what is the next place that I'm going to stop, how am I going to go from here to there and then until I get to New York, that is a funnel. Now the beauty of a funnel for your business is that ideally this funnel will happen automatically. You decide this funnel once and then it works out automatically on the backend for all your prospects and ideal clients.
-By the way, I am going to try to give you as smart information as I possibly can on this short video but I want to invite you. If you want more training on how to create your perfect welcome funnel and you want templates and cheat sheets and step by step process, even a Q&A session with me on how to do it; maybe you want me to review your funnel. All you have to do is click the link below and access and join our Unstoppable Confidence and Profits Club community where in this month's training, we have a very in-deep training, around one hour of training on how to create your perfect welcome funnel, so I hope to see you there.
-That's what a funnel is and then it happens automatically on the back end. The reason why you want to have that funnel is because you want to convert that prospect into a paying client as fast as possible. Let me just make a stop here in the road because I want to make a clarification that is fundamental for you and for me and for everybody. We don't want to turn them into a client because we want to sell them or we want to get money or we want to do anything to them, but because that is the only way in which you will be able to help them at a bigger scale. You may have experiences. Maybe you find a prospect or somebody who has the exact problems that you solve and then you have a conversation with them, but then they decide for whatever reason not to engage your services or not to buy your products. What do you think is going to happen with that person?
-In my experience, most likely what happens 90% of the time is that they don't solve their problem. They don't solve their problem so the reason why we want to have them buy something from us or engage our services or products, why you want to do that is because you want to help them. In that sense, selling and enrolling becomes one of the highest forms of service that you can do for an individual. That's a whole new blog or a whole new training session on selling, which for sure, I will be doing in the future. Let's go back to your funnel.
-What most people do is that they think, "Oh, I want to go into business." When they think they want to go into business, the next thing they say, and they know is because they see everybody do it, is "I need a website." Yes, you do need a website but the only reason why you want to create a website besides having an online presence is to be able to get leads and contacts into your database so you can continue to service these people, so you can really help them on a bigger scale or on a deeper level.
-How do you get contacts and leads? You do it by offering what is called a free gift. Some of the tips or the things that you need to have, you need to have a free gift, meaning a free gift or a lead magnet or ethical bribe, however you want to call it that solves one specific problem for your ideal clients. You want to also create a low and free offer, something that your ideal clients can buy immediately after they sign up for your free opt-in, that will really take them deeper into whatever problem solution they are looking for. Obviously, you want to have an opt-in page for your free gift. You want a thank you page for your free gift, and you want to have a welcome funnel.
-Let's go into the welcome funnel. What are the main parts of the welcome funnel? The welcome funnel is usually comprised from between four to five emails that are going to lead your new prospect through the process of getting to know you, your business, your brand, your vision, your mission. You're also going to offer them the opportunity to buy your low-priced and free offer at a very, very reduced rate. Let me give you an example. One of my free gifts is a thirty-minute blog creation plan. Immediately when you sign up for that free gift, you get the option to buy what is called the Fourteen Steps to Making Money With Your Blog, so how to attract clients, prospects and actually make money from blogging.
-Now that is a training that I offered as some point and I sold it for $200. Right now, it's not available anywhere but inside of either UCPC, my Unstoppable Confidence and Profits Club, or as a low-priced intro product after you sign up for my free gift. That is what is called a low-priced intro product. I sold it for $200 and now I offer it at $14.00 but that offer is time limited and it is very, very focused on them taking action in that moment. That is what I suggest you do.
-Number one, never ever create a website without having a free offer or ethical bribe to offer the people who land on your website to join your list so you can actually deliver help and more training for them. Number two, always offer and low-priced intro offer as soon as possible so you can help them at a deeper, deeper level. Number three, always have what I call a perfect welcome campaign that you create once but it works automatically on the back end.
-Let me just tell you what the training that I created for my UCPC, my Unstoppable Confidence and Profits Club, includes that maybe you want to include, too. Number one is a welcome email. The welcome email is welcoming your new prospect and clients to your world and it's talking about who you are and what you do and what you stand for. It's basically designed to create a connection with you. Email number two is the email where you actually give them access to that free gift that they requested.
Email number three is sent usually between one or two days after they requested their free gift, making sure that they got access to their free gift. Number four is another reminder email with another piece of information also reminding them about the free gift and also your low-priced product. Then there is a number five email that is designed to also call their attention and remind them as to why they should take advantage of that time-limited offer that is going to expire that same day. Those are the five main pieces of your perfect welcome funnel.
-If you want me to literally take your hand, show you step by step on how to do that and also give you my script, my templates and make this process super easy for you to create in probably one or two days, all you have to do is click the link below and join us at UCPC, which is the Unstoppable Confidence and Profits Club, where you will not only have access to this training but to tons of other trainings on how you can get more clients, attract more clients, sell your products online, create your blog posts, the mindset for sells, productivity tips and so many other trainings. I hope I get to see you there and until then, make sure that you have a welcome funnel on your website. Do not be losing the opportunity to help those prospects that you are getting immediately because remember that nowadays, their attention span is so short that you want to be able to help them as soon as possible.
-As always, remember that life is a gift that offers you both the privilege and the responsibility to give back. I know that you have a message but when you have a message, you also have a duty and a responsibility to share that message with the world so you can fulfill your purpose and you can help the people who you are supposed to help in this world. Share your message, shine your light and step up to help the people that you're supposed to help in this world. I hope you join us for UCPC as soon as possible. This is Erika Ferenczi from the Unstoppable Female and I will see your next time. Goodbye.
2016 Copyright and All Rights Reserved, Erika Ferenczi, ErikaFerenczi.com & Life is Yours, LLC.
---
WANT TO USE THIS ARTICLE IN YOUR NEWSLETTER OR WEB SITE? You can, as long as you include this complete paragraph with it: Erika Ferenczi, ACC, CPC, ELI-MP, EH, MFIN is a Business & Financial Freedom Mentor, Dynamic Speaker, Loving Mom. She is the Founder of the www.TheUnstoppableFemale.com and Author of: Beyond The Lies ~ The Ways Women Sacrifice Freedom by Relying on Others. Erika is a Financial Expert by profession and a Business Mentor by heart. She specializes in helping business owners get more clients and double or even triple their income in record time.   Erika believes that you are not free until you are financially free and that the moment you turn your business into your life's mission and you learn the art of marketing and sales you can not help but succeed and she is eager to show you how.