I have great news to share with you!! This past weekend
my son had a soccer tournament close to Tampa, Florida
and even though they had a few very tight games his team
won the championship. What a great feeling! I am so proud of him
and his team mates.
I saw them running like crazy, staying focused, and giving their all
at those games, they ended up exhausted but the exhilaration of the
victory made it all worth it! 
How similar is that to being in business? 
Your victories, the plans you implement… when they succeed
make it all worth it! So remember to never give up,
like I told my son this weekend:
"A leader walks on the field with intention and determination,
you walk in with character and commitment and walk out with
results, give it your all, and never forget the game ain't over
until it is over, go give 200.% my love"
I hope you apply that to your life and your business too, if you do,
that will make all the difference in the world! (yes I promise)
I love this time of year, spring is just around the corner and with it
and a whole new year in front of us.
Our thoughts turn towards rebirth, rejuvenation, and moving forward
in our lives. For me, it is the time of year where I take stock of what I did
the year before and figure out how to build upon it.
What does this time mean for you?  (you can comment below and let me know)
In keeping with that theme of rebirth and moving forward, today I would
like to talk about something that all entrepreneurs want but seldom
ever get; even if it is within their power.
Today I would like to talk about maintaining a consistent stream
of qualified leads for your business.
I will be hosting a training about this topic VERY soon,
stay on the lookout. (more details to come soon)
Although every entrepreneur wants a steady stream of quality leads,
very few owners and CEOs actually understand that in fact it is their
responsibility bring in them in. Of those that understand that simple fact,
even fewer understand how to generate those leads.
While there are many different ways to a consistently attract clients,
the best way I found is to create an automated client attraction system
that brings the clients to you.
When setting up your own automated client attraction system,
there are four critical cornerstones that you'll need to consider in
order to ensure success.
Here's what they are: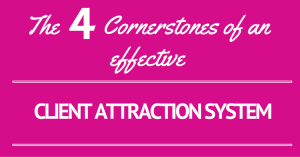 1) Know Your Client
Before you do anything else, the first thing you need to ask yourself is "Who am I looking for?". That one question sounds so simple and yet so many entrepreneurs fail to answer it. You need to be crystal clear on who it is that you are helping with your business. Ask yourself questions like: What is their demographic? What is their most pressing issue? What are they afraid of? What would they wish for if they had a magic wand? What do they want the most? When you know who your client is; not only will you be able to market to you them, you'll be able to pick them out of the crowd.
2) What do they REALLY want?
 Language is often an imperfect means of communication, and many times what we say is often not actually how we feel. Sometimes what your clients wants is not actually what they really need, and if you are going to be successful you are going to have to read between the lines and help guide them to that point. In order to do that you will need to understand their words and how they use them to define their problem. When you can speak their language, you will finally be able to create the solution your clients have been looking for.
3) Create Face-to-Face Interactions
The internet is a great tool for growing your business, but nothing beats rolling up your sleeves and doing the job in person. While offline strategies do not reach the mass audience of the internet, you will find that you get better results by doing things face-to-face. Things like workshops and speaking engagements are great ways to have direct interaction with your potential clients. If you are speaking before a group, a word of caution: there is a difference between speaking for entertainment and for profit. You must learn how to inspire your audience to take action and to take the next step with you.
4) Make a Funnel and Grow Your List
E-mail marketing is one of the most important cornerstones of any business, digital or otherwise. The fastest way to growing your business in a sustainable way is through growing your digital database. Your database will ensure the sustainability of your business and your ability to leverage your time and income. Cultivating a relationship with your list is a foundational piece of business success.  
Stay on the lookout for that free training opportunity coming up very soon.
Until Then Stay Amazing and Shine Your Light as
the world needs you and your expertise!
With all my desire to see you succeed,
2016 Copyright and All Rights Reserved, Erika Ferenczi, ErikaFerenczi.com & Life is Yours, LLC.
---
WANT TO USE THIS ARTICLE IN YOUR NEWSLETTER OR WEB SITE? You can, as long as you include this complete paragraph with it: Erika Ferenczi, ACC, CPC, ELI-MP, EH, MFIN is a Business & Financial Freedom Mentor, Dynamic Speaker, Loving Mom. She is the Founder ofwww.TheUnstoppableFemale.com and Author of: Beyond The Lies ~ The Ways Women Sacrifice Freedom by Relying on Others.  
Erika is a Financial Expert by profession and a Business Mentor by heart. She specializes in helping business owners get more clients and double or even triple their income in record time.   Erika believes that you are not free until you are financially free and that the moment you turn your business into your life's mission and you learn the art of marketing and sales you can not help but succeed and she is eager to show you how.