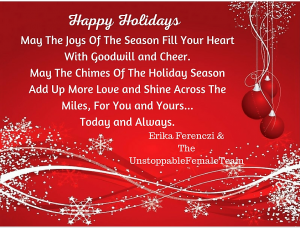 Merry Christmas, Happy Hanukkah, 
(Happy Holidays if you do not celebrate any of those) 
whether you celebrate this holiday or you don't
it is important to remember that there can be unity
in this world.
Did you know this is the 5th time in 100 years that
Hanukkah (the Jewish holiday) and Christmas is
celebrated on the same day (actually Hanukkah's
celebrations which last for 8 days started
yesterday night.) 
But I digress; no matter what you celebrate this year.
May you be the one who works for unity and love.
May your life be filled with joy and happiness and
may each new day bring you moments to cherish.
May your life be filled with an abundance of love. 
May this new year bring you peace and tranquility,
and as you walk the journey may you find fulfillment and joy.
May you experience the most fantastic
holiday season.
With all my love,
-Erika Ferenczi 
2016 Copyright and All Rights Reserved, Erika Ferenczi, ErikaFerenczi.com & Life is Yours, LLC.
---
WANT TO USE THIS ARTICLE IN YOUR NEWSLETTER OR WEB SITE? You can, as long as you include this complete paragraph with it: Erika Ferenczi, ACC, CPC, ELI-MP, EH, MFIN is a Business & Financial Freedom Mentor, Dynamic Speaker, Loving Mom. She is the Founder of the www.TheUnstoppableFemale.com and Author of: Beyond The Lies ~ The Ways Women Sacrifice Freedom by Relying on Others. Erika is a Financial Expert by profession and a Business Mentor by heart. She specializes in helping business owners get more clients and double or even triple their income in record time.   Erika believes that you are not free until you are financially free and that the moment you turn your business into your life's mission and you learn the art of marketing and sales you can not help but succeed and she is eager to show you how.