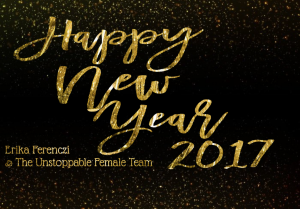 Life has its ups and its downs. 
Some years are more difficult than others. 
Sometimes life and circumstances bring us
to our knees. 
Sometimes life allows us "to touch the sky" with
happiness and joy. 
All part of being alive.  
Today is the first day of another 365 opportunities
you have to enjoy every moment, every positive thing
you have in your life. 
Remember that being human means having a meaning
to fulfill and values and dreams to realize. 
It means living in the polar field of the struggle of reality
and ideals to achieve. 
The eternal pursue of our dreams and aspirations is
what keeps us young, alive, and motivated
every single day. 
May your heart and soul be filled of dreams. 
May you never loose the desire to grow and be, to do
or have more. 
May this year be the best year of your life. 
Thank you for being who you are. 
Thank you for being with me, with us. 
Thanks you for everything you do, It really matters. 
Happy 2017!
With all my desire to see you shine,
-Erika Ferenczi
2016 Copyright and All Rights Reserved, Erika Ferenczi, ErikaFerenczi.com & Life is Yours, LLC.
---
WANT TO USE THIS ARTICLE IN YOUR NEWSLETTER OR WEB SITE? You can, as long as you include this complete paragraph with it: Erika Ferenczi, ACC, CPC, ELI-MP, EH, MFIN is a Business & Financial Freedom Mentor, Dynamic Speaker, Loving Mom. She is the Founder of the www.TheUnstoppableFemale.com and Author of: Beyond The Lies ~ The Ways Women Sacrifice Freedom by Relying on Others. Erika is a Financial Expert by profession and a Business Mentor by heart. She specializes in helping business owners get more clients and double or even triple their income in record time.   Erika believes that you are not free until you are financially free and that the moment you turn your business into your life's mission and you learn the art of marketing and sales you can not help but succeed and she is eager to show you how.